What a relief! After testing the Peavey Ampkit Link and IK Multimedia iRig guitar interfaces for the iPad and iPhone to less than stellar results, along comes the Apogee Jam. My suspicions as to why the previous 2 products wouldn't work correctly (for me) came true…the key is in the dock!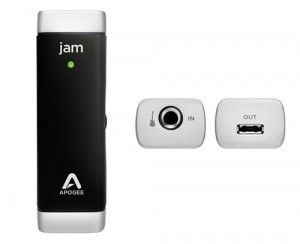 For those that have tried the iRig and Ampkit Link, you know that the unit utilizes the headphone jack on the iPad/iPhone as an input. Before I even tested them out, I had a feeling there was going to be a chance of feedback or noise. Plugging a metal tip into a metal headphone jack that normally pushes sound OUT should cause a problem…and it did in my case. I could not play any amp model software that had any kind of gain or distortion. It was unbearable because of the squealing, noise and just bad sounds.
The Jam fixes all these issues for me. For starters, it plugs into the DOCK! Who would have thought? Oh yeah, I did! It makes total sense since we already know that the camera connection kit can help you use USB products with the iPad/iPhone. How simple is it to get up and running? How about trying this…plug your guitar cable into the Jam, plug the included dock cable into the other end of the Jam and then into your iPad or iPhone. Open up Garageband or other music recording/guitar app and…that's it. You should see a green light on the Jam which signals that you're ready to rip.
Best feature of the Jam besides the clear sound? The gain control knob located on its side. Signal too hot? The light turns orange to red. Just turn the gain down and it goes back to the green. So simple, so easy. I'm not going to get into what the specs of the unit are. For that, visit
Apogee website
. I'm telling you how easy it is to get a good, clean, clear, noise-free guitar tone to record or "jam" with.
To hear a couple of samples I recorded, click here:
My Jam Testing Tunes
(you may need a soundcloud free account to listen)
(Yes, these are Def Leppard tunes…I joined a Def Lep tribute recently)
These samples were recorded entirely with my strat, Line 6 Spider III 15 watt amp, the Jam and an iPad 1 using Garageband.
On a side note, the Jam works with Garageband, PRS Jam Amp app and the Peavey Ampkit app. It doesn't seem to work with Amplitube as of yet…hopefully that changes.